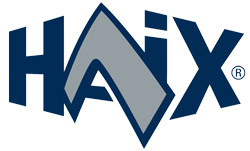 Lightweight Running Shoe Technology and Cutting-edge Performance
The Black Eagle® line is designed with your needs in mind. Combining running shoe technology with innovative functional features, HAIX Black Eagle® Athletic 2.0 T High Side Zip offers one of the lightest and most breathable side zip tactical boots out there. Made to be worn indoors or out, these black tactical boots are built for comfort and incorporate many unique features you didn't even know you needed.
Perfect for Swiftwater Rescue Operations
As a member of a swiftwater rescue team, you need a boot that fits your needs and stands up to the extreme demands you place on it. Because not only are you working to get others to safety, you have to keep yourself safe as well. Black Eagle® Athletic 2.0 T High Side Zip is lightweight and responsive while offering the durability and quality HAIX® is known for. For better overall protection and support during swiftwater operations, step away from tradition and experience the difference of the HAIX® with the Black Eagle® Athletic 2.0 T High Side Zip black athletic boots.
Durable, Shock Absorbent Heel with Built-in Support
Designed for speed and constructed for durability, HAIX Black Eagle® Athletic 2.0 T High Side Zip tactical boots have what it takes while you put them through their paces. The cushioning in the heel area will give you just the right amount of shock absorption while the strong spring-back material in the forefoot allows for the most efficient use of energy. And with built in pronation and supination support, your foot stays ideally positioned to keep weight distributed evenly throughout which is so important with regard to your foot health.
Metal-free with Slip-resistant Soles
The long-lasting and durable sole of the Black Eagle® side zip boot line incorporates a special rubber and tread design that provides excellent multi-directional anti-slip grip on many surfaces, even in wet or cold weather. What does multi-directional anti-slip mean for you? It means you can start, stop, and turn on a dime without worrying about losing your footing. The soles on these oil resistant shoes are resilient against gasoline, are antistatic, and promise not to mark up your floors. These police boots are airport friendly since Black Eagle® Athletic 2.0 T High Side Zip is entirely metal free too.
Highly breathable with HAIX® Climate System and Cushioned, Moisture-wicking Insoles
Black Eagle® Athletic 2.0 T High Side Zip features a super light microfiber design which is extremely breathable when paired with the built in HAIX® Climate System, your feet will stay comfortable indoors and out, even in hotter temperatures. The removable insole also provides ample support and a cushiony feel for a comfort fit day in and day out.
2-Zone Lacing System with High Side Zip for a Custom Fit
The patented 2-Zone Lacing System allows independent adjustment between the upper and lower part of these SWAT boots, so you can get a fit tailored just for you. The addition of the built-in side zip allows you to fix it and forget it. Once adjusted, you have quick in and out convenience every time. We also added side pads which protects your sensitive ankle area from shocks and blows.