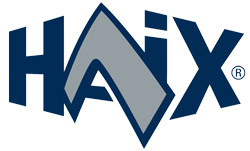 **Non-Certified Boot**
Looking for an innovative alternative to those traditional logger style wildland fire boots? The HAIX® Missoula is the boot you've been looking for.
The HAIX Missoula boot was built especially for the wildland firefighter and hiker. The lighter weight alleviates leg fatigue while on those long hikes, since the less weight you have on your feet, the less energy you have to expend while walking. HAIX® Missoula uses thicker, breathable European leather and minimal seaming to increase stability and also durability of its boots.
Two Zone Lacing
The two zone lacing not only gives you the ability to adjust the boot for a fit tailored just for you, but allows you to achieve the ankle support you need when hiking through rough terrain. It enables you to tighten the boot to the foot and leg area separately so that you get a customized and supportive fit.
Vibram® Rubber Soles and Nomex Protected
The uniquely designed Vibram® rubber sole offers a stable non-slip sole edge so you can keep your footing even when on slick terrain. The Missoula cement sole construction is heat rated to 573°F so you won't experience sole melt or delamination when conditions start to heat up. Stitching and lacing are all made of heat and flame resistant Nomex® which protects more than three million firefighters worldwide.
Secura Liner® Protected and Superior Heel Grip
The inner liner and upper leather are firmly secured and lasted beneath the sole. with Secura Liner® your inner liner will never pull out or wrinkle over time.
HAIX wildland boots also have specially designed heels that allow for a superior grip even when walking on steep or uneven terrain. The midsole also prevents instability during hiking.
Cushioned and Quick Change Insoles
The comfort cushion insoles protect your feet from pain and provide long-lasting comfort allowing you to serve on duty even for long periods. And with its excellent moisture absorption and quick drying capabilities, you'll never feel uncomfortable moisture in your boots.
HAIX® Climate System
The Missoula's built in Climate System let's your feet maintain balance in temperature by keeping your feet warm in cool temperatures and keeping them cool in warm temperatures. The "bellows" effect in this system keeps air circulating with every step a firefighter makes. It helps keep your feet dry from sweat for longer periods making them one of the most comfortable boots you will wear while in line of duty.
Dual Purpose Boots
The HAIX® Missoula is not suitable for HAZMAT but it is a dual purpose boot that can be worn for wildland firefighting or for hiking. Whichever of the two may it be, the Missoula is guaranteed to provide you the support, comfort, and durability needed to fulfill such events or activities. We've recently taken these wildland fire boots and given them a serious upgrade.
HAIX Wildland Boots Engineered in Germany
Make the change from tradition, and choose HAIX® Missoula.
Secura Liner® – will never wrinkle up or pull out over time
HAIX® Climate System for temperature balance
HAIX® 2-Zone Lacing - Ankle lace lock allows independent lace adjustment between the upper and lower boot
Sturdy Vibram® anti-slip heat resistant rubber sole
Oil Resistant Boots
Water resistant, breathable leather