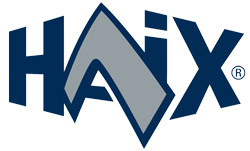 Easily adjust your Missoula or Missoula 2.1 boot's width with an insole replacement.  Choose your desired width of insole in your boot size, and slip it in for a snug, comfortable fit!
If you're worried about sweaty feet, HAIX® exchangeable, breathable insoles are quick drying and absorb perspiration from your feet so they are dry even under rigorous conditions. The built-in "AIRFLOW" channels help to keep your feet dry and comfortable all the time. They also provide just the right amount of cushioned support so you feel comfortable even when standing for long periods of time throughout the day.
If you like your washable insoles for sweaty feet to stay clean and dry, you will find that the microfiber design is light and breathable as well as washable. Simply remove from your boots and wash in warm water (86° F) and allow to air dry.
Order your moisture wicking insoles today as a replacement or so you have an extra pair on hand.