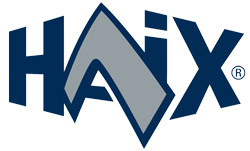 HAIX XR-1 ARE BEING REPLACED BY THE XR-1 PRO TRI COMPLIANT BOOT, IF YOUR NOT SEEING YOUR SIZE IN STOCK ORDER THE XR-1 PRO ORDERING IS AVAILIBLE NOW
Developed with firefighters and paramedics in mind, these wildland and EMS boots can take you to the front line and back with the comfort you need when logging long hours in the station. A dual purpose leather fire boot that is NFPA certified, you have the convenience of two boots in one.
Anatomically constructed and built with a lightweight composite toe, HAIX® Airpower XR1 boots give your feet plenty of room to move around while protecting them from toe impact and compression because there is nothing worse than a protective toe that pinches or restricts your movement.
Built in Arch Support
The HAIX® Airpower XR1's built in arch support provides much needed support to the arch, which takes the brunt of the pressure when standing. Proper support of the arch helps to prevent foot pain when on your feet all day and possible foot problems later on.
The newly developed cushioned insole offers the ultimate in comfort, especially when combined with the built in arch support. And with the laced in zipper system, any firefighter can adjust the lacing for a more personal fit while enjoying the benefits of a quick in and out boot. Because on the job, seconds matter. 
Waterproof and Sun Reflect technology
The HAIX® Airpower XR1 is both waterproof and breathable with the added benefit of chemical and bloodborne pathogen protection. Working in tandem with the HAIX® climate system, your feet will stay dry, comfortable, and protected, thanks to these leather fire boots – even in times of extreme exposure to water. 
The Airpower XR1 offers all of the HAIX® quality you have come to expect for long lasting comfort and durability. The upper material of these European leather fire boots uses Sun Reflect technology, which reduces the solar heating effect and keeps feet cool by reflecting the sun's rays. 
Heat Resistant
Because the soles, heels, and uppers are also heat resistant, it is less likely to lead to boot separation which is a very common case in firefighting situations. Heat resistance keeps the whole boot functional without melting or delaminating. 
Slip Resistant Soles and Quick Drying Insoles
The soles of the HAIX® Airpower XR1 are extremely slip resistant which offers an effective grip when exposed to water and oil. So even when you're on a rescue and you're running on tile, hardwood, or linoleum flooring, these leather fire boots will be able to grab hold. The insoles are anatomically formed to deliver a perfect fit and are made to provide excellent moisture absorption and as well as quick drying qualities. When your insoles get completely dirty after long days on duty, all you need to do is throw then in the wash, air dry, and they'll be ready the next day's work.
Secura Liner® and CROSSTECH® Protected.
Secura Liner® guarantees that your boots will never pull out or wrinkle over time. The CROSSTECH® material in the inner liner also ensures that the gear is comfortable and safe against blood and body fluids.
Engineered in Germany
EMS Boots Dual Certified for Wildland Firefighting
Secura Liner® – will never wrinkle up or pull out over time
CROSSTECH® inner liner, waterproof, breathable, bacteria, chemical, and bloodborne pathogen resistant
HAIX® Sun Reflect leather keeps feet cooler in direct sunlight
HAIX® Arch Support System supports your foot in its natural, ideal position
HAIX® Climate System for temperature balance
HAIX® Lacing System offers the entry and exit of a zipper boot with the personal fit of a lace up boot
Carbon protective toe cap and exterior rubber toe cap
Puncture protection sole
Oil Resistant Boots
Heat resistant rubber sole
ASTM certified for electrical hazard resistance (EH Rated Work Boots)