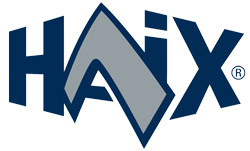 Athletic feel and firefighter strong, our lightest structural fire boot yet
Today's fire ground is not the same as those of the past. Lighter weight building materials makes for structures that can be more unstable and require quick changes in response.  The new HAIX Fire Eagle® Air boots set the standard for the modern day firefighter. These lightweight structural bunker boots have an athletic fit and feel, yet offer the highest degree of protection when on the frontline of a firefight. HAIX Fire Eagle® Air boots will keep you lighter and quicker on your feet and more responsive to the fire. From the very first step in these HAIX Fire Eagle® Air boots, you will feel that rare combination of comfort and safety that is the hallmark of HAIX®.
Innovative Sole Design
The HAIX Fire Eagle® Air boots' innovative athletic sole is highly slip resistant whether on water, ice, or snow. The newly developed 2 component tread features additional grip elements that offer outstanding stability no matter what conditions you may encounter. Superior traction equals greater flexibility to react to the changing conditions of a fire.
The dual color sole offers superior shock absorption and phenomenal heat and cold insulation. The unique signal yellow color used in the sole gives you increased visibility when crawling, even in the smokiest conditions. You also have the added benefit of a built in boot jack at the back to make getting your boots off as easy as 1-2-3.
HAIX® Ankle Flex System for Feet and Ankle Support
Unlike other pull on bunker boots that can feel loose and sloppy over time, the Fire Eagle® Air includes the HAIX® developed Ankle Flex System which offers a phenomenal fit with quick in and out capabilities. The interior elastic components throughout the ankle area offers a snug fit that will support your feet and ankles, so no more worries of twisting your ankle when running with equipment or jumping off the fire truck. The Ankle Flex System enables the boot to adjust to different foot, ankle, and heel shapes for a more custom fit. The integrated flex zones that surround the ankle ensures you have flexibility and freedom of movement when kneeling or driving.
HAIX® Climate System and HAIX® Sun Reflect Leather
The HAIX Fire Eagle® Air boots are German Engineered and European made, built with only quality European bull leather, which is thicker and more durable. The bright yellow elements on the outside of the boot is the "light in the dark" for a firefighter. Not only does the yellow coloring make you more visible to your fellow firefighters, the yellow on the toe cap helps you to be able to see where you are placing your feet in a dark or smoky environment. And as always, these HAIX Fire Eagle® boots have Sun Reflect incorporated into the leather so that your HAIX structural boots and your feet stay cooler in bright sunlight.
CROSSTECH® and Secura Liner® Protected
Underneath the hydrophobic and breathable leather is a Crosstech inner liner is waterproof, and provides added protection from chemicals and bloodborne pathogens. Our unique HAIX® Secura Liner® feature will make sure you won't have the "liner pull out" you can experience with other fire boots. Nothing more frustrating than having your boot liner come out with your foot every time you take your boots off. NFPA certified, HAIX Fire Eagle® Air structural boots are a breakthrough in cutting edge technology and is all HAIX® from the shaft to the sole.
These lightweight structural bunker boots have an athletic fit and feel
These firefighter boot's bright yellow signal marks are visible even through thick smoke
ASTM certified for electrical hazard resistance (EH Rated Work Boots)
Safety toe shoes with anatomically formed and well-padded composite protective caps
HAIX® Ankle Flex System enables these structural bunker boots to adjust to different foot, ankle, and heel shapes providing optimal fit
Lightweight PU shock absorption provides enhanced walking comfort and excellent thermal insulation
Safety toe boots with flame-resistant outer sole are non-marking and offer excellent resistance against heat, oil, and fuels
HAIX® Arch Support System offers optimal ankle support and shock absorption in the arch
HAIX® Vario Wide Fit System for a more individualized fit. These lightweight structural bunker boots can be fit-adjusted with an alternate insole; Blue – Narrower fit (thickest), Red – Moderate fit (average thickness), Yellow – Wider fit (thinnest)