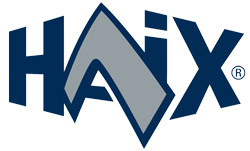 NFPA quad-certified leader in lace-up firefighting boots
No matter what the emergency, Fire Flash Xtreme has you covered. NFPA quad-certified, Fire Flash Xtreme is a Structural, Wildland, HAZMAT, USAR boot.
Fire Flash Xtreme is a great pair of women's fire boots for those who have trouble stepping into pull on bunker boots. These wildland fire boots can accommodate wider calves and/or ankles with its adjustable built in lacing system. With the easy run lace/zip system, you can be assured that you can step quickly in and out, especially with the added pull tab at the back. Have a prior ankle of foot injury that needs extra support? Fire Flash is the perfect choice since you can adjust each boot individually for a custom fit; cinch lacing tighter for additional support. With the HAIX® Lacing System you can adjust your boots easily and quickly - similar to a zipper boot with the fit of a lace up type of footwear. Flex zone construction around the tongue ensures you will still have the flexibility to perform the job at hand.
The Fire Flash Xtreme womens firefighter boot offers European craftsmanship and HAIX® technological designs and specialized materials, which keep your feet dry and protected from blood borne pathogens, chemicals, and more. Lots of flexibility in the ankles and secure hold in the heels means your feet can get where they need to go without straining your foot muscles or suffering ankle roll. The HAIX® Secura Liner keeps these women's fire boots in place. It will not wrinkle or pull out of your boots. It is permanently affixed and designed for maximum comfort and airflow.
Upper Material To Make a Firefighter and EMS Responder Proud
Female first responders will be proud to wear these women's fire boots which are constructed of quality, solid leather. The leather is waterproof and comes with Sun Reflect technology to keep the sun on the outside of the boot rather than warming feet on the inside. Para-aramid cut protection provides an added level of protection to feet on duty. A steel protective toe cap with exterior profiled rubber toe cap not only keeps your feet safe and protected but keeps your boots looking great. It also provides abrasion resistance when crawling.
Insole, Lining and Footbed With CROSSTECH®
CROSSTECH® liner keeps your feet dry and comfortable. It also provides chemical protection and blood borne pathogen resistance. Absorbent insoles makes the footbed drier and more comfortable. They are washable and replaceable.
Sole For the Firefighter
The HAIX® MSL System (Micro Soft Light) designed sole offers a PU foam injection throughout the sole for maximum comfort and great shock absorption. The MSL System is also excellent at insulating feet from the heat or cold. The steel puncture protective sole of these women's fire boots contains a flexible, stainless steel layer to keep feet safe from sharp objects while still allowing some freedom of movement when driving a truck or performing your duties. The outer sole is made from heat resistant rubber which is also slip resistant. A ladder shank on the inside gives extra support on ladder rungs; an important feature you will love to have if spend any period of time standing on a ladder rung.
These women's fire boots are engineered in Germany
Secura Liner® – will never wrinkle up or pull out over time
HAIX® Sun Reflect leather helps keep feet cooler in direct sunlight
HAIX® MSL System (Micro Soft Light) PU foam is injected throughout the sole for greater shock absorption and cold/heat insulation
HAIX® Lacing System offers the optimal adjustment option, easy entry and exit of a zipper boot with the personal fit of a lace up boot
HAIX® Climate System keeps your feet temperature regulated and more comfortable
Steel protective toe cap
Exterior profiled rubber toe cap for added abrasion resistance when crawling
Steel puncture protective sole
Ladder shank for extra support on ladder rungs
Waterproof/breathable with CROSSTECH®
Increased chemical protection and bloodborne pathogen resistance
Additional para-aramid cut protection
Slip resistant and highly heat resistant rubber sole