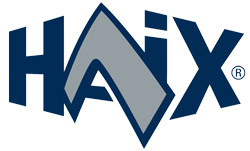 Trusted leader in durable, structural firefighting boots
The nature of your job as a firefighter can entail unforeseen physical challenges, from climbing multiple flights of stairs in full turnout gear, dragging a victim to safety, or dragging heavy hose.  You need firefighter puncture resistant boots that will handle any situation, providing much needed protection, but also giving you the support and agility you need to safely accomplish the task at hand. The HAIX® Fire Hero Xtreme, our most popular firefighter puncture resistant boots, will do that and more.
Extremely Slip Resistant with Polyurethane Foam Soles
The HAIX® Fire Hero Xtreme's highly slip resistant sole allows you to get into the action even if it's on water, ice, or snow. Together with the honeycomb tread pattern and yellow suction cups, the firefighter puncture resistant boots offer excellent traction on slick and wet surfaces. 
Climbing up ladder rungs can be the norm during fire operations and with ladder bar treads in the joint area, you can focus better on the emergency knowing your firefighter puncture resistant boots have added stability. The polyurethane foam is injected into the sole cavity, offers shock absorption and phenomenal heat and cold insulation. Because as a firefighter, you never know where you're going to be and how bad the situation will be.
And because the HAIX® Fire Hero Xtreme sole is self-cleaning, oil and fuel resistant, and non-chalky it requires minimal maintenance. The added benefit of a built in boot jack at the back, makes getting your boots off as easy as 1-2-3.
Ankle Flex System for Feet and Ankle Support
The HAIX® Ankle Flex System, and the interior elastic components, offers a snug fit that will support your feet and ankles, so you don't have to worry about twisting your ankle when running or jumping off the fire truck. The integrated flex zones of these firefighter puncture resistant boots that surround the ankle ensures you have flexibility and freedom of movement when kneeling or driving. The Ankle Flex System enables the firefighter boot to adjust to different foot, ankle, and heel shapes for a more custom fit. The added Ankle Protector helps to prevent ankle injuries from sudden blows.
CROSSTECH® and Secura Liner® Protected
HAIX® Fire Hero Xtreme is European made and built with only quality European leather and unique HAIX® features. And with its CROSSTECH® inner liner you not only get a firefighter puncture resistant boot that's waterproof, but you get added protection from chemicals and bloodborne pathogens. 
Our unique Secura Liner® feature will make sure you won't have the "liner pull out" you can experience with other fire boots. Nothing more frustrating than having your boot liner come out with your foot every time you take your boots off.
HAIX® Climate System and HAIX Sun Reflect Leather
The climate system that comes with the HAIX® Fire Hero Xtreme ensures that your feet stay at a comfortable temperature no matter what. It keeps feet cooler during warmer temperatures and warmer during colder temperatures. Don't worry about having to stand in the hot sun all day either. The HAIX® Sun Reflect leather protects the boot by reflecting direct sunlight so your feet don't get too hot even on the hottest of days.
Comfortable Bootstraps and Padded Shin
The larger bootstraps are strategically placed below the topline of the HAIX® Fire Hero Xtreme boot in order to protect the calf from the rubbing you can experience with other manufacturer's longer bootstraps. And with its padded shin protection, you can lean on ladder rungs all day long and barrel through low obstacles without any worry of injury.
NFPA certified for structural firefighting, HAIX® Fire Hero Xtreme is the cream of the crop in firefighter puncture resistant boots; often imitated, but never duplicated.
FEATURES:
HAIX® Fire Hero Xtreme fire boots are engineered in Germany
Secura Liner® – will never wrinkle up or pull out over time
HAIX® Sun Reflect leather helps keep feet cooler in direct sunlight
HAIX® MSL System (Micro Soft Light) PU foam is injected throughout the sole for greater shock absorption and cold/heat insulation
HAIX® Climate System keeps your feet temperature regulated and more comfortable
HAIX® Ankle Flex System stabilizes the foot with a flexible insert in the shaft/instep area to fit like a lace up boot
Carbon protective toe cap
Exterior profiled rubber toe cap for added abrasion resistance when crawling
Firefighter puncture resistant boots feature a steel protective sole
Ladder shank for extra support on ladder rungs
HAIX® ES Out System offers a special heel edge for easier boot removal
Padded shin protection
Larger boot straps placed below the topline so as not to rub the calf
Waterproof/breathable with CROSSTECH®
ASTM certified for electrical hazard resistance (EH Rated Work Boots)
Increased chemical protection and bloodborne pathogen resistance
Slip resistant and highly heat resistant water ice grip rubber sole