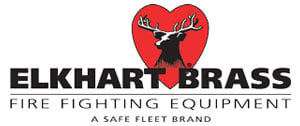 Elkhart 8494 Sidewinder Electric Monitor
Under 9" wide and requiring just 16" of clearance, the Sidewinder is compact and perfect for wildland, dust abatement, small apparatus use or anywhere space is at a premium. Designed specifically for the rigors of wildland and construction use, Elkhart's Sidewinder features a 2" fully-vaned waterway, customizable nozzle selection, fast-action tiller control and double-ball races with stainless steel bearings.
The controls for the Sidewinder Electric monitor can be mounted inside vehicle, allowing more effective use of personnel while reducing the potential risk of injury. It is designed for wildland firefighting, de-icing and dust abatement operations; and features a weather-tight connectorized harness and an epoxy-encapsulated control module. Available in 12V or 24V for DC operation and with either a low-cost toggle box controller or full-sized joystick with integrated water valve trigger. Available high speed water valve kit operates from joystick trigger.
MONITOR SPECS:
Max. Water Flow: 500 GPM
Inlet: 2" NPT (F)
Outlet: 1.5" NH
Controls: Electric
Material/Finish: Elk-O-Lite® with red urethane enamel
Friction Loss: 26 psi at 500 gpm; 13 psi at 350 gpm; 3.9 psi at 200 gpm
Travel: V -45º to +90º (135º); H 180º or 334º
Weight: 16.5 Lbs.
Max. Power Requirement: 3.0 Amps at 12V DC (24V opt)
Ratings and Certifications: CE Certified